The linkup is at the bottom of the post.
Scroll down to read or link-up Virtue Challenge posts!
Facebook links are fine, provided they are public and Virtue Challenge related.
"Can you imagine a man and a woman, striving for virtue, coming together? What chemistry! Lasting chemistry, because it is not all about emotions—it's about Christ. They have developed virtuous habits. You know that you can trust this person. They are not using you to fill insecurities or want you around because they don't want to be alone. A virtuous person wants what is best for others, and in turn finds happiness in the freedom to love and give, even sacrifice." *

Inspired by the girls at the You Are Loved Campaign, Elyse will be taking on the challenge raised by them regarding Sarah Swafford's Virtue Challenge.
In Sarah's own words, the challenge goes like this:
"The Virtue Challenge is this: Each week there will be a men's virtue and a women's virtue that is our theme. Write it down; set it in stone. Put it in a place where you will see it. Try to make a list of three specific ways you are going to live out that virtue in your life. Then, at the end of the week, evaluate yourself.
You may even want to find a "running mate" a work-out buddy who knows the challenge you have set for yourself and holds you accountable. At the end of the week, look at what you have done to work towards your goal. Just like a runner who felt the ache of working out for the first few days – it will be hard. But once you have built endurance and stamina, you will be able to run for miles, and eventually something will feel as though it is missing if you don't get your run in."*
*~From Sarah Swafford @ EmotionalVirtue.com
A group of girls associated with the You are Loved Campaign (YAL) have gathered on a Facebook group page to encourage each other in reaching their virtuous goals!

YAL states: "All of the traits on these lists are forms of virtue. Now, remember, no one is perfect, but a person who is striving for these virtues is a man or woman on a mission. The mission is greatness. We are currently on our third week but they have a long way to go! Then after we finish this list, they have a whole lifetime! This is a mission." If you would like to join them, follow this link
:


The YAL virtue for January 7-14, 2013, is:
Elyse will be taking up the challenge and blogging about her experiences here.
We have also created a link-up for others to share their Virtues Challenge posts so that we all might be built up and encouraged. Elyse will be linking her posts here, and you may too. Please use the virtue you are reflecting on as the title in the linky. You'll find the link-up at the bottom of this post.
Interested? Follow along!
If you link to the blog hop, please create a text link back to the hop, or grab the button, so that others may join in and benefit from the posts.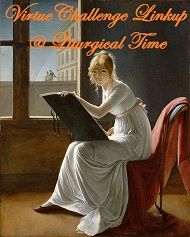 Grab the Linkup Button!
Here's the code:
FEMININE:
- In control of her emotions
- Gentle & Kind
- Graceful & Sincere


- Patient & Flexible


- Doesn't gossip, is not rude


- Understands that drama is a major turn off


- Poised, modest ("Her clothes are tight enough to know she is a woman, but loose enough to know she's a lady.")


- Nurturing & welcoming


- Joyful & Fun


- Honest Loyal


- Has self-confidence
CONFIDENT:


- In control of her emotions
- Stands up for what is right
- Courage, not afraid to confront someone respectfully


- Genuinely excited for another, not jealous/vain


- Intelligent


- Speaks with conviction


- A true leader Forgives


- Responsible


- Prudent;


- Sensitive to the needs of others
VIRTUOUS:


- In control of her emotions
- Puts others first


- Excellence in all things: chastity, sobriety, and academic excellence


- Pushes herself, is not lazy


- Balance & order
- Charity & service


- Trustworthy
- Pure

~~~~~~~~~~~~~~~~~~~~~~~~~~~~~~~~~~~~~~
The Boys' Challenge:
Masculine:
- In control of his emotions
- Leader


- Provider


- Protector


- Initiator


- Chivalrous
- Brave/Courageous


- Gentle


- Intuitive


- Honorable


- Joyful & Fun
Confident:


- In control of his emotions


- Stands up for what is right


- Courage, not afraid to confront someone respectfully


- Genuinely excited for another, not jealous/vain


- Intelligent


- Speaks with conviction


- A true leader


- Responsible


- Prudent
- Honest


- Sensitive to the needs of others
Virtuous:


- In control of his emotions


- Puts others first


- Excellence in all things: chastity, sobriety, and academic excellence


- Pushes himself, is not lazy


- Balance & order


- Charity & service


- Forgives


- Trustworthy


- Loyal


- Pure
*
~From Sarah Swafford @ EmotionalVirtue.com
***This is a specialized linkup. Please link
only
Virtue Challenge posts.***
Here's the Hop: